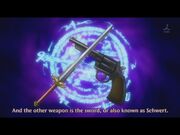 Kämpfer either use three type of weapons: magic (
Zauber
), swords/blades (
Schwert
) or handguns (
Gewehr
). These weapons can vary and do not always have to be the same, for example, the main character,
Natsuru Senō
, uses zauber which is flame based but one of the white kämpfer,
Hitomi Minagawa
, uses zauber that is energy based.
In RPG terms, Zauber would be Caster, Schwert would be Melee, and Gewehr would be Ranged.
See Also
Ad blocker interference detected!
Wikia is a free-to-use site that makes money from advertising. We have a modified experience for viewers using ad blockers

Wikia is not accessible if you've made further modifications. Remove the custom ad blocker rule(s) and the page will load as expected.