This article is a stub

Don't let Natsuru go topless! You can help Kampfer HQ Wiki by expanding it.
This page is need of better pictures

You can help out Kampfer HQ Wiki by uploading a better quality picture. An image that doesn't have text or watermarks on it.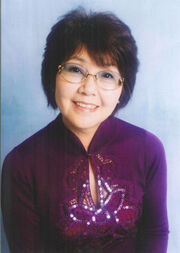 Michiko Nomura
(野村 道子, born March 31, 1938 in Yokohama, Kanagawa) is a Japanese voice actress. She is married to fellow voice actor Kenji Utsumi.
Michiko provides the voice of Harakiri Tiger in the Kämpfer anime. One of her earlier roles was providing the voice of Michi Shimura/"Mitchi", (Trixie) of the Mach Go Go Go anime (known in the US as Speed Racer).
Ad blocker interference detected!
Wikia is a free-to-use site that makes money from advertising. We have a modified experience for viewers using ad blockers

Wikia is not accessible if you've made further modifications. Remove the custom ad blocker rule(s) and the page will load as expected.