The contest that starts the Seitetsu High Cultural Festival at the high school. The current contest was hosted and announced by Masumi Nishino. The contestants in Kampfer are the Three Beauties of Seitetsu: Natsuru Senō, Kaede Sakura, Shizuku Sangō, plus Akane Mishima. They are to dress in costumes. The contestants are picked by majority of the audience but in this case Shizuku won by default when she knocked out the other three contestants in a single move. 
The contest in Kampfer was made into a Entrails Animals play thanks to Kaede's actions in the contest.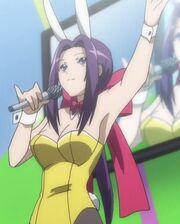 Ad blocker interference detected!
Wikia is a free-to-use site that makes money from advertising. We have a modified experience for viewers using ad blockers

Wikia is not accessible if you've made further modifications. Remove the custom ad blocker rule(s) and the page will load as expected.